Let's face it; moving is a hectic occurrence. When certain steps are left undone, people sometimes encounter unpleasant surprises on the moving day.
To ensure a successful moving experience, our team at Gvota has summoned everything you will need for a seamless move. We have created a uniquely beneficial moving checklist to keep you on track during the moving process.
Our moving checklist is set to a couple of weeks prior to your moving day, and it serves to provide fruitful recommendations that will get you ready for your moving day. In addition, the moving checklist allows you to organize your weekly tasks properly and simplify your moving to-do list, making your move as painless as possible.
8 weeks before moving - checklist
Inform your landlord in advance
If you're renting, it's desirable to give your landlord notice about your moving plans. This will also save you from losing deposits or paying additional fees. Nonetheless, be sure to double-check your lease agreement and revise the details thoroughly before initiating your relocation plans.
Research moving services
First things first, you should plan your move, get well acquainted with your options, and set a budget for your move. Each factor significantly affects your budget, depending on how you are planning to move. Will you be performing the relocation yourself? Are you considering hiring professional movers?

If you choose to hire movers, it is necessary to be well informed while doing your research to avoid unpleasant surprises on your moving day.
Prepare a list of questions to ask your movers
If you decide on hiring professional movers to perform the move, make sure to have a list of questions before signing a contract. From cancellation policies to liability coverage, the movers will be ready to answer your inquiries. This will allow you to be fully in the loop regarding the future steps. It is crucial to discuss the terms and conditions of the contract, as well as to learn as much as you can about the moving company before booking their services. Are there any conditions that are not mentioned by the mover? Make sure that there are no hidden charges.
You can receive free moving quotes, compare movers and prices directly on Gvota platform
Book a truck
Those who opt for taking on the DIY move will need to seek their truck rental options a couple of weeks ahead of moving day. Meanwhile, others prefer to reach out to moving companies to relocate half of their belongings and do the rest by themselves. In both cases, it's best to confirm the arrangements ahead of time, and you'll have one burden taken off your shoulders.
In addition, it's important to note that the demand for moving trucks increase during the beginning and end of the month, as well as the weekend.
Talk to your kids about the move
It's important to sit down and talk about the move with your child. Allow them to participate in the discussion and listen to their thoughts. Also, make sure to answer all the questions they may have. This will help them be at ease, as they might have an insight into what to expect. In addition, if you can share some of your previous moving experiences with your kids; it will assure them that everything will be alright.
6 weeks before moving - checklist
Order the necessary moving supplies
If you are planning to move your entire household, now is the right time to purchase the moving supplies that correspond to your needs. From big boxes to tapes and bubble wraps, these miscellaneous materials are crucial to have in your moving list, as they guarantee that your goods will arrive seamlessly at your new home.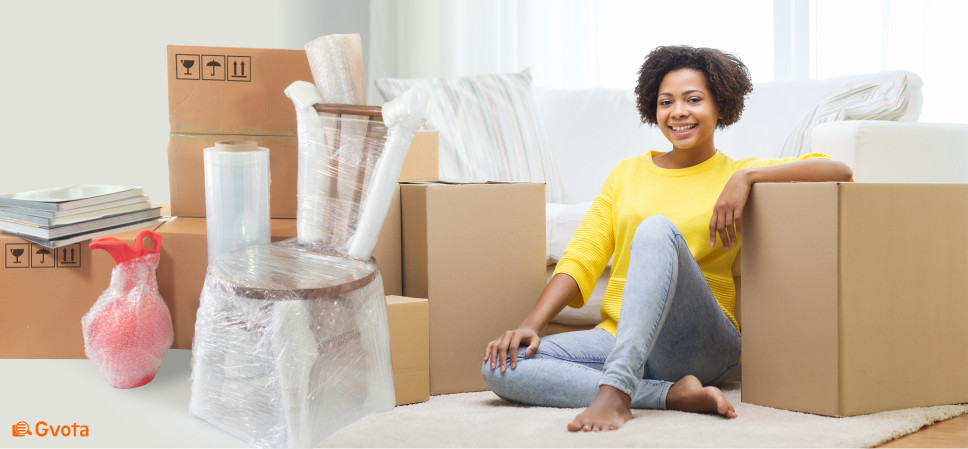 No need to buy expensive materials from reputable firms! There are several alternatives to finding moving boxes to use for packing.
Collect free boxes from restaurants and grocery stores.
Ask your friends and relatives who might have moved recently.
You can reach out to communities or groups on social media, and you will be shocked to realize how easy it is to attain moving boxes online.
Learning how to choose the boxes will definitely come in handy. You can select moving boxes of different sizes that will match the objects you want to move.
Start decluttering your home
Obviously, the fewer things you have to move, the easier it will be to transport and the less expensive it will be.
Therefore, in order to estimate the cost of moving, carefully walk around the rooms in your home, and exclude items you no longer need or do not want to move to your new home. Then search further in detail, for example, looking at cupboards and drawers, to discover broken or unused goods. Lastly, draw up a list of the items that must necessarily be moved to your future home.
Find out how you can reduce your moving costs.
Create a packing strategy
Before boxing up your belongings in an unsystematic manner, you must draw out a timeline for the packing process to keep things neat and organized. Ideally, packing the non-essential items should come first. These can include objects that you won't be using in the upcoming few weeks until your move, such as books, home decor items, and electronics. Then leave the essentials for last, such as cooking supplies and bathroom products.
Update your subscriptions
Whether you have a magazine coming in or bills delivered to your doorstep, make sure to notify them about your moving plans and the date of the move. Some monthly memberships demand at least a 30 days notice before freezing, canceling, or switching an account. Make sure to add this to your moving planner a month before you actually relocate.
4 weeks before moving - checklist
Pack the boxes
Now is the time to whip out the extensive moving house checklist and start boxing up the non-essentials and seasonal items. If you are moving in the summer, this may include winter coats, off-season sports gear, books, and any other belongings. In addition, label all boxes as clearly as possible to avoid possible confusion at the new house. Moreover, be sure to keep your valuables and important documents separate from the hectic boxing process.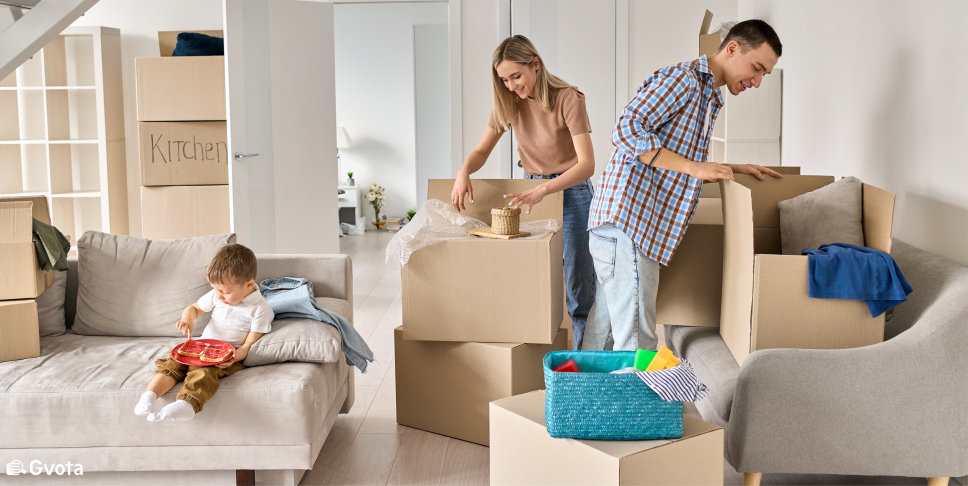 Confirm the date and time with your selected moving company
Although your moving checklist may be filled up with important tasks, confirming the moving date and time with your mover shouldn't be forgotten. It's highly recommended to check in with your moving company at least a month before the moving date. From there, you can reiterate the logistics that you have previously discussed.
Change your address
Whether you are planning to move to a new province or remain in the same city, you must change the address shown on your health card, driver's license, and registration certificate online. It is necessary to update the address that is mentioned on these documents in order for the Ministry of Health and Care to enter your new address on file.
2 weeks before moving - checklist
Request time off from work
Obviously, a move cannot be done in a day, and it surely can't be done while you are working. The accumulation of stress will only make things more complicated. If your move is scheduled to happen during your working hours, it is best to inform your supervisor at least 2 weeks in advance and notify them of your absence.
Start packing your bags
It is time to deal with the last-minute items, which include all the essentials and whatever is leftover around the house. Make sure to separate the goods that you might need during the first week after your move—such as pajamas, clothing, shoes, medications, baby necessities, as well as any important documents or valuables—for an easier find. After you've completed all your packing around the house, get a moving day handbag for you and fill it up with your personal belongings.
Take inventory
Moving is a chaotic experience, and it is easy to lose items or misplace them throughout the process. This is why it is important to take inventory of all your belongings and keep track of what you have and what the movers are transporting. Make sure to correspond with your driver's inventory sheet as well. If, in any case, you find that anything has gone missing or damaged, be sure to make a note of it beforehand. For insurance purposes, it can also be ideal to take photos of fragile items, such as appliances.
Moving day checklist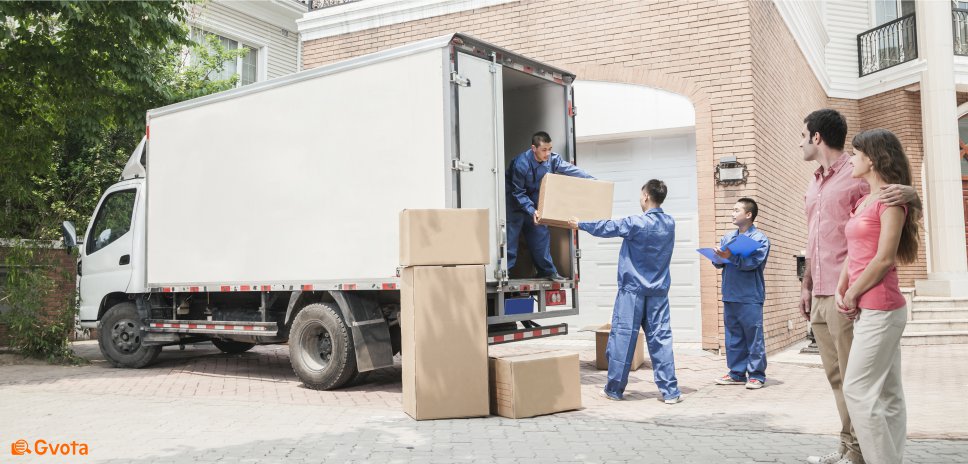 All the moving preparations that you have performed for the past couple of weeks have led you to this very moment.
Set an alarm early in the morning
After checking off numerous steps of your moving checklist, make sure you get an early start to your moving day to take care of the remaining steps. The earlier you start your day, the more time you will have at your new housing.
Things to consider before leaving the housing
To make sure that there will be no mishappenings after leaving the house, here are a couple of things to check:
Water is shut off and lights are turned off
Windows are closed and locked
Check if there are other objects left behind
Before marking off all the steps in your moving checklist and tossing it out the window, be sure to do one final sweep around the house.
While keeping up with every step of the moving process, our team at Gvota is ready to help you, especially when it comes to choosing among the vast variety of movers. Compare rates and locate the company best suited for your moving needs using our user-friendly platform.