Receive and Compare
Moving Quotes in Montreal
Free, Confidential, No obligation service in Greater Montreal Area


* Expected 12 quotes in 1 hour
* Average mover response time on Gvota 7 mins



693

4646

8027

97%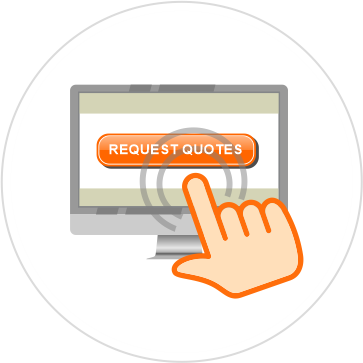 Step 1
Request free moving quotes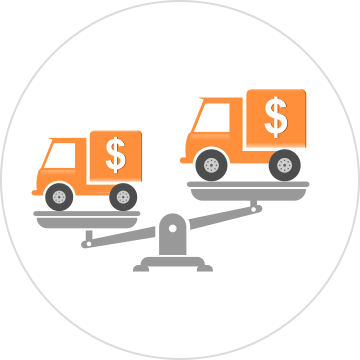 Step 2
Compare moving quotes online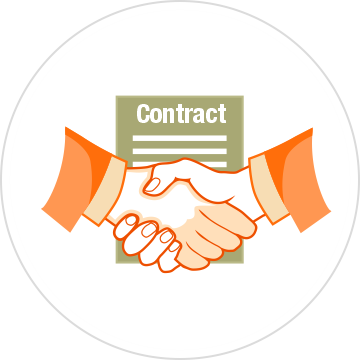 Step 3
Choose the best offer and get moving!
Why Choose Gvota?
The easiest and fastest way to receive and compare multiple moving quotes online
Vast network of professional movers in Montreal with proven track record and very affordable rates
All moving quotes are free, confidential and without any obligation. No hidden costs
Mover ratings and past feedback attached to each quote to give you peace of mind
Unparalleled Gvota support to assist you at every step of your move
Gvota is the most trusted moving platform in Montreal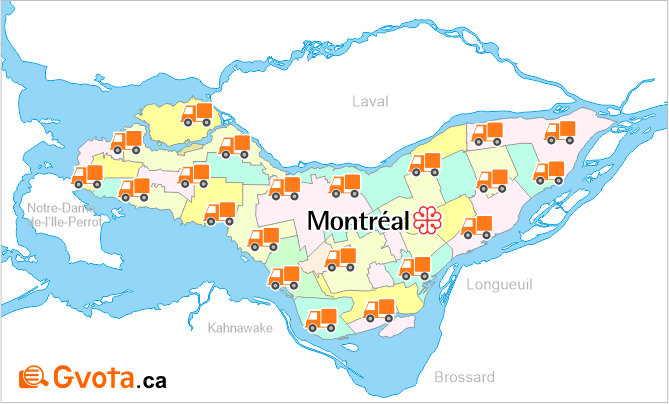 With our wide selection of Montreal movers you will surely get:
Free estimations
Flexible and clear pricing
Expert movers
Professional and stress-free moving at any time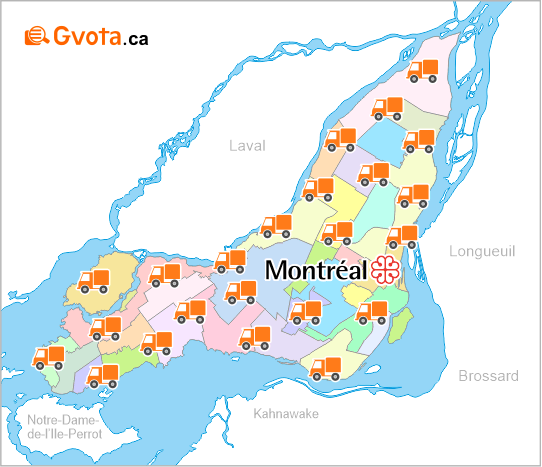 At Gvota, we do our best to assist and accommodate you moving in Montreal to the best of our ability. With our online moving services in Montreal, your satisfaction will always remain our number one priority.
What Are the Advantages of Hiring Local Montreal Movers on Gvota?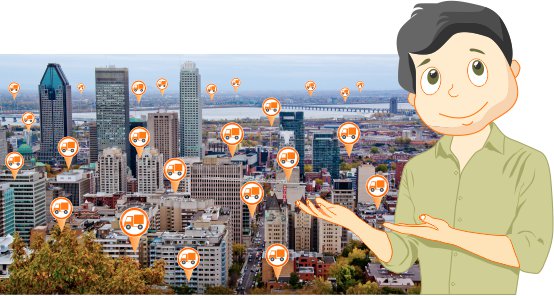 Whether you are looking for Westmount movers, movers in ville Saint-Laurent, in Plateau-Mont-Royal or anywhere else in Greater Montreal, Gvota has got you covered. Our wide selection of reputable movers will present a range of moving services to match your needs and specifications. Moving in Montreal is just as hectic as moving anywhere else, this is why using a local moving service will help you keep the stress at bay!
Hiring a local Montreal mover will help you keep the travel distance to the minimum and to avoid any extra fees. It will also minimize the risk for movers to get stuck in a traffic jam to enter the island at your own expense.
How Much Do Local Movers Cost in Montreal?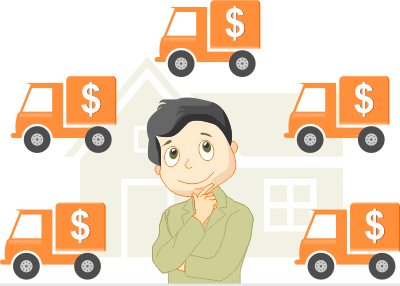 Moving companies in Montreal are plenty and finding the best price is difficult. The vast majority of movers in the Greater Montreal area work by hourly rates. The actual rates greatly depend on the season and the size of the moving team. While hourly rates may vary from one company to the next, there are average amounts to keep in mind. During the regular moving season the hourly rates for 2 movers vary between $75-$95, and $100-$120 for 3 movers respectively. However, the average moving rates significantly increase during the high-season in Quebec, between the end of May and mid July. Hourly rates for 2 movers vary between $90-$160, and $140-$250 for the team of 3 movers respectively. Moreover, the closer the moving date is to the Quebec moving day the higher the rates.
How Do I Get The Best Deals on Movers in Montreal?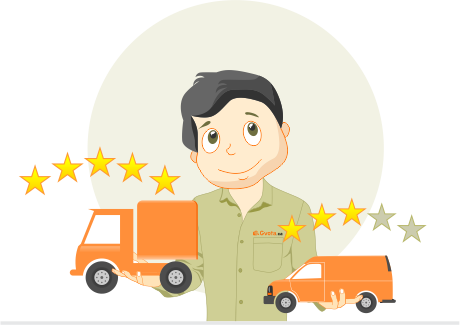 Even though moving companies relatively agree on moving rates, they still use different pricing tricks to stand out in the market and win more customers. Ones offer relatively lower rates, but take longer to make the move, others include higher travel charges or extra charges for heavy stuff. Moreover, depending on the load, some moving companies are even ready to offer additional discounts to ensure they book their contracts to account for their free calendar days. Therefore, the best way not to miss the best moving deals is to get as many moving quotes as possible from different companies, and ensure all the quotes have transparent pricing, so that you can compare one with another.
Don't get it wrong, it only sounds easy, but it's a tedious task. Luckily, that's where Gvota platform comes to rescue.
With a wide range of verified movers network, Gvota automatically invites the moving companies in your area to send you their best offers using a common quotation form that provides full price transparency. With our quick and easy online moving request, you can now receive and compare information (such as rates, insurances, extra charges) about movers all around you. It doesn't stop there! You can also check customers' past experience and knowledge about the movers they used in order to make a more informed decision. Research is the key to get the best deals and at Gvota we do the best to provide you with all the tools and knowledge.
Let's Plan Your Move Together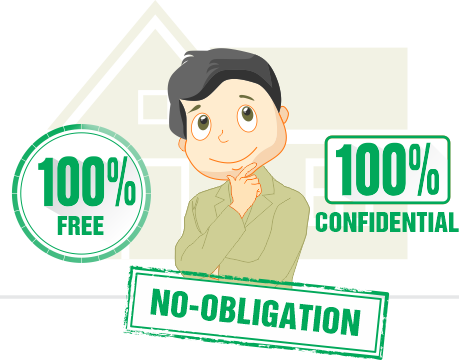 Our vast variety of movers are professional and courteous movers ready to facilitate your local move. Our know-how will guarantee a smooth transition of your goods from the origin to the desired destination without any hassle. Whether this is your first move or you are a repeat customer, our high-end service strives to tailor your needs and budget. With our top-notch experience, we are ready to make your move run smoothly.
What customers say about us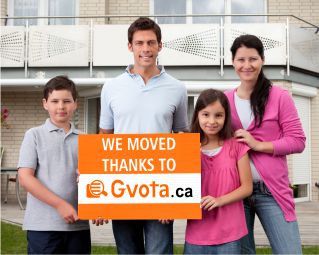 | | |
| --- | --- |
| | Jacques Blouin |
(March 22, 2021)
Moving in Greater Montreal
"I am very satisfied with this service, which I did not know before. A great initiative to have created this service. It allows you to find and choose movers more quickly."
| | |
| --- | --- |
| | René Paoletti |
(March 21, 2021)
Moving in Greater Montreal
"The Gvota service has saved me a lot of time to find the desired moving company. In 24 hours, I had the choice between 12 companies. I really appreciated having the summary table of the offers received and the feedbacks from previous customers."
| | |
| --- | --- |
| | Isabelle Lelièvre |
(March 4, 2021)
Moving in Greater Montreal
"I got a lot of quotes that matched my needs. I was able to accept an offer the same night! When I had to call to change the date of my move, we sorted it out in no time! Excellent service, thank you!"
| | |
| --- | --- |
| | Sonia Rodrigue |
(June 16, 2020)
Moving in Montreal
"This was my first time using the GVOTA service and I was delighted with it. An overwhelming number of movers responded to me on short notice and their bids were all competitive and fair. So look no further, make the movers come to you with the Gvota service. Easy to use and very efficient. Thank you very much Gvota. Recommended!!!"
| | |
| --- | --- |
| | Anh Tuan Vo |
(July 21, 2020)
Moving in Montreal
"Hello Gvota team. Thank you for your service and your follow-up. Thanks to your site, we can quickly get quotes and moreover, we can compare prices and choose what suits us. Once again, thank you for your return of the follow-up and no doubt I will use it for my next move and I will advise whoever needs it. Thank you very much!"
| | |
| --- | --- |
| | Daniel Tremblay |
(November 20, 2020)
Déménagement à Montréal
"A friend told me about this service and I was hesitant at first. But everything went really well! I received quotes quickly and the chosen carrier did a great job. I saved precious time since I didn't have to spend hours researching and negotiating a carrier. I will not hesitate to retake this service."