5 Best Local Moving Companies in Toronto
Moving from one apartment to another is not a rare thing if you live in the most populous metropolitan area in Canada – Toronto, covering 630.2 km² area. But no matter how often you move, we know that relocations are always connected to a lot of hustle: planning, packing, finding an appropriate vehicle, or a sufficient number of people to move your belongings. It is all pretty stressful and time-consuming. That's why more and more people prefer to trust their moving arrangements to professionals.

How to Choose a Reliable Moving Company in Toronto?
The big question is how to choose a reliable mover because you not only want to move but to keep your belongings intact, avoid unnecessary stress, additional costs and other troubles. There are hundreds of Toronto moving companies that offer different kinds of services from packing to moving and storage. The choice is usually made by a quick search over the Internet. However, a nice picture of a happy customer on the company's website or a well-written copy of their excellent services doesn't mean much. On the contrary, there is often a sheer disappointment. A common scenario is: a crew of several people arrives, often in a car not equipped for moving. They do not give any guarantees, often damage the transported property, and demand more money than the parties initially agreed. And it's not always about the price: do not assume that the most expensive moving specialists will ultimately be the most reliable and will perform the tasks assigned to them with high quality. Therefore, considering all the potential risks, you should be as informed as possible when choosing a professional mover.
But don't worry, we've got you covered here. We have done the hours of research for you and made the list of best local Toronto movers with 3 Rs- reliable, reputable and responsible. We based our research on the following factors:
the time the company has been in the market
the range of the offered services
social presence
ratings and reviews all over the WEB
Of course, each move is unique and has its peculiarities. But if you are planning a local move within Toronto or GTA, our selected 5 companies fit the best.
Before getting to our top of 5 best local movers, please note that Gvota is not affiliated with any of the companies. The top is based on our thorough research and unbiased opinion.
1. Rent A Son
The company's name "Rent a Son" already suggests that it has adopted a caring "son's" approach towards its client. Rent a Son is situated in Toronto, ON and offers small local as well as long-distance commercial and apartment moving. They also cover packing and storage services. The price for the services is calculated based on the volume of the job and the distance between destinations. The hours of operation are from Monday to Friday from 8:00 am to 6:00 pm, but moving is possible on weekends as well.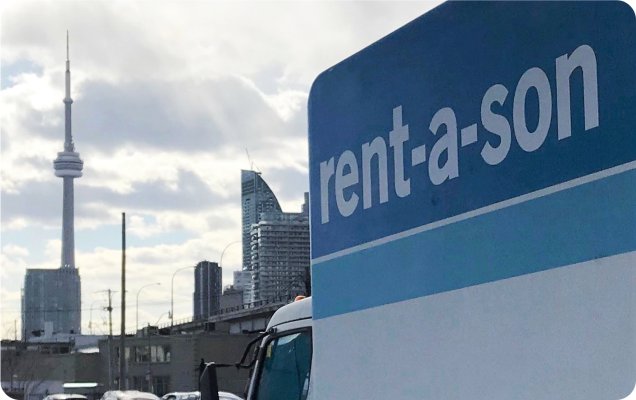 Photo taken from the Facebook profile of Rent A Son
Moving Services
As a standard part of top-rated moving services, they offer full blanket wrapping of all items, stretch wrapping of your upholstered pieces, floor runners to protect your flooring at all locations, wardrobe boxes for your hanging clothing and the complimentary use of dollies and straps. As well, all of the moving trucks come stocked with the proper equipment and supplies tailored to your specific moving needs. Rent a Son is also a professional piano mover, which means that they have all the necessary equipment and tools to move your piano safely, without a scratch.
Rent a Son also stands out with its price match guarantee. This means that if you're given a lower quote from another (reputable) moving company, they'll meet it.
Customer Satisfaction
| | |
| --- | --- |
| HomeStars: | |
| Facebook: | |
| Google: | |
| Yelp: | |
| BBB: | A+ |
The company has been in business for 20 years and has an excellent reputation.
Rent-a-Son began specializing as a Full-Service Movers in 2009. After years of helping 'moms' and 'dads' with household general labor tasks. Since then Rent-a-Son has won the 10 'Best Movers' awards. Continually providing the best Movers in the GTA. They won the Toronto "Best of 2018" award on Homestars, are accredited with an A+ rating on the Better Business Bureau and a certified mover with the Canadian Association of Movers. They've also won the Customer Choice award from North American Van Lines.
As per the customer reviews, Rent a Son team is very quick and patient, there are no hidden surprise costs. "They were on time, efficient, friendly and just all-around great guys!" is one very common review, which also summarizes the general customer satisfaction. We researched all the possible websites for reviews but couldn't find even one negative review. This proves that the company is one of the best among local Toronto movers.
The company has profiles in almost all relevant social networks like Facebook, Twitter and LinkedIn, though we can't say they're very active.
2. You Move Me
You Move Me is another top-ranked moving company operating in Toronto since 2012. One distinguishing perk of hiring these movers is the free coffee sentiment_satisfied_alt the carriers often bring it with them (Because you've already packed your coffee maker, right?).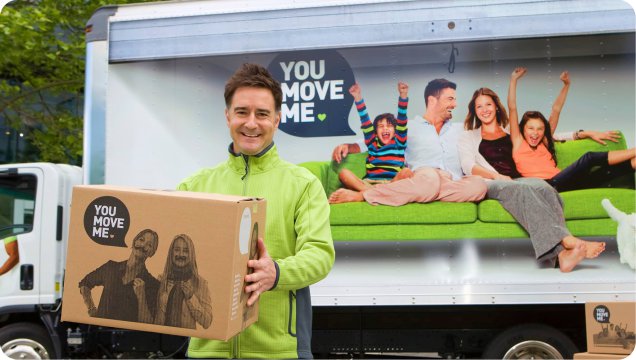 Photo taken from the Facebook profile of You Move Me
You Move Me has been in the market since 2012 and has many franchises in Canada and the USA. You should take that into account when looking for information about the company on the internet because if one review is true for one city, it might not be true for another. The good thing is that the franchises are locally owned and operated. The movers live and work in the communities they serve, so you can think of them as your neighbors. They know the area well, so they'll always find the best route to get you into your new home as quickly as possible.
Moving Services
You Move Me boasts on-time service, upfront rates (no hidden fees), friendly, uniformed movers, clean, shiny trucks, fully licensed, insured, and bonded service.
The company covers your belongings with storage pads or shrink-wrap and uses pads to protect hardwood and tile floors. Customers can add full carpet shielding for an additional cost. The company covers local, office and senior moves, free on-site estimates, and home inspections are also provided. They also offer basic loading and unloading services with do-it-yourself packing. Customers can choose from three add-on options: complete packing services with supplies and optional unpacking, specialty kitchen packing or customized packing that allows you to choose what movers pack.
Customer Satisfaction
| | |
| --- | --- |
| HomeStars: | |
| Google: | |
| Yelp: | |
| BBB: | A |
The service is neither cheap nor too expensive, and most of the customer reviews state that they are worth the money. Although we came across a few reports about poor customer service, the overall customer satisfaction is high. No additional costs were required during the move and the movers were quick and professional. You Move Me is rather active on social media sharing the received feedback and blog posts, although they don't have many followers to engage.
3. Two Men and a Truck
Two Men and a Truck is the largest Toronto-based moving company in Canada operating in the market for 30 years. It's quite interesting to know how the company started with two high school brothers with an old pickup truck and hand-drawn logo. Then the company expanded and currently has more than 335 locations and 1,600 trucks worldwide, with more than 20 locations in Canada.
They have adopted the "grandma rule"- treat everyone the way you would want your Grandma to be treated.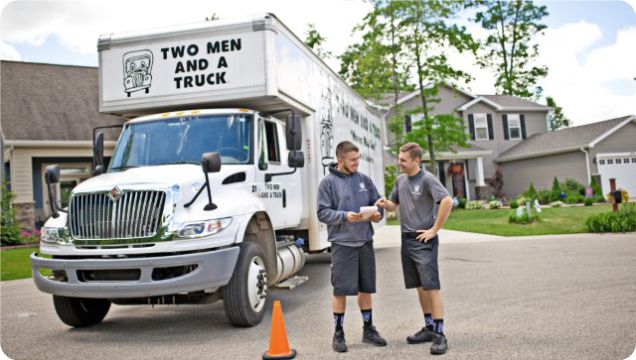 Photo taken from the Facebook profile of Two Men and a Truck
Moving Services
Two Men and a Truck offers full-service moves, storage options, and hourly labor for an assortment of in-home jobs. They can be more than just two men and a truck when they need to be. With Two Men and a Truck, you can also get short- and long-term storage, even if you're not moving. This is handy if you still need to finalize your move-in date, don't have enough space for all of your keepsakes and collectibles, or just need to free up a spare bedroom. They offer both local and interstate moves.
Some of the advantages of Two Men and a Truck include its in-home moving services, its community service programs, and its packing supply selection.
Two Men and a Truck does a lot of donation drives to help local communities. While these aren't services that directly benefit you during your move, they caught our eye as a way Two Men and a Truck is trying to make the world better.
The company offers a wide selection of competitively priced moving boxes and packing supplies including tape, packing paper, markers, paper pads, bubble wrap, and stretch wrap (please try to refrain from popping bubbles until your move is complete!). Free local box delivery is available and they'll even give you a full refund for any boxes you don't use.
That said, the company is not without a few downsides. For example, some of its franchises only facilitate moves within certain distances. Also, the company's pricing is not so transparent, as each franchise sets its own rates, and there is no pricing standardization, which means that your price will vary depending on where you live.
Customer Satisfaction
| | |
| --- | --- |
| HomeStars: | |
| Facebook: | |
| Google: | |
| BBB: | A |
Although customer experiences vary based on the franchise, Two Men and a Truck is generally known for having helpful, considerate movers. Nonetheless, we found reviews from unhappy customers. In particular, one customer reported that the movers raised the billing due to the truck size and traffic. Apart from a few negative experiences, "professional", "punctual", "quality", "incredible" are some of the most frequently used words in the feedback section of the company. Two Men and a Truck's strengths make it a reliable option for most moves, and its excellent customer service ensures you'll have a convenient move.
4. Your Friend with a Cube Van
Your Friend with a Cube Van is a small Toronto-based local mover. It has been offering moving services for individuals and businesses around GTA since 2002.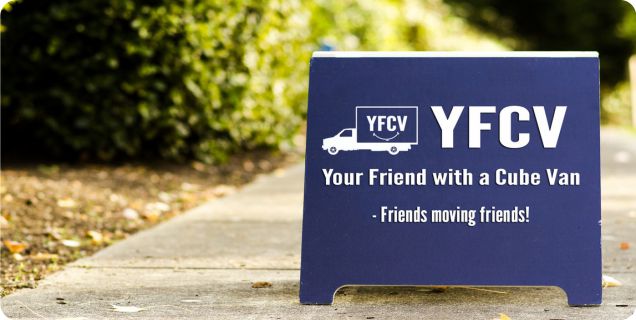 Photo taken from the ewbsite of Your Friend with a Cube Van
Moving Services
The full range of services includes packing and unpacking, furniture assembly, packing supplies and delivery. Your Friend With A Cube Van's specialty niche is condo and apartment moves. Ideal for those moving in and out of small spaces without a great deal of bulky furniture, the company offers reliability, friendly staff and competitive pricing.
Customer Satisfaction
| | |
| --- | --- |
| HomeStars: | |
| Facebook: | |
| Google: | |
| Yelp: | |
| BBB: | A+ |
As per the customer reviews, the whole process of working with the company is swift and seamless. Customers especially appreciate the moving guys' friendly attitude and professionalism. Most of the reviews state that the staff was punctual and attentive. They offer great value and reasonable prices. We also found reviews blaming the movers for minor furniture damages. What we should understand here is that the moving guys are also human and sometimes mistakes are inevitable, so are the negative feedback. Nonetheless, the overall customer satisfaction rate is above average.
Your Friend with a Cube Van is rather active on Facebook and Twitter. They often announce special discounts and share interesting moving tips podcasts from their website. So following them makes sense if you are going to move soon or you're just interested in packers and movers in general.
To sum up, Your Friend with a Cube Van has excellent ratings, some of the best sides of the company including quick responses to inquiries, friendly, professional staff and outstanding customer service. Choosing to move with Your Friend with a Cube Van your moving experience will be quick and stress-free.
5. My Ninja Movers
My Ninja Movers is one of the top residential movers in Toronto. With stealth and precision, experienced Ninja Movers meticulously navigate your treasured items from your present locale to your new home, apartment, cottage, office or villainous lair.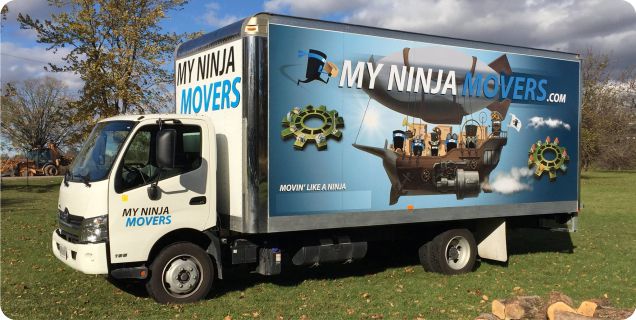 Photo taken from the Facebook profile of My Ninja Movers
Moving Services
My Ninja Movers perform moving services for local and long-distance locations. The movers arrive equipped with dollies, blankets, shrink wrap, mattress covers, tie-down straps, ropes, tape, etc. They also provide a rental service for hard plastic, stackable moving crates. These are a good idea and worthwhile expenditure, especially with sizable moves.
Billing is based on the time required for the move. The volume of your items, accessibility, proximity to the truck, and the distance you are moving, will all contribute to the overall time required. They have different moving service plans: ninja specialist for small apartments; ninja beast team for condo or apartment for regular size or a ninja swarm.
Customer Satisfaction
| | |
| --- | --- |
| HomeStars: | |
| Facebook: | |
| Google: | |
| Yelp: | |
Customer reviews confirm that the movers come with dollies, plastic wraps, blankets, and garment boxes. The cost presented by the movers is always accurate. Customers also praise the outstanding service as the mover took good care of their stuff and worked very hard to move their belongings carefully, yet quickly. Some even mention that the movers finished the job earlier than planned. Nevertheless, some customers thought that the service was expensive as compared to other companies offering the same services.
The company does have a social presence, but they are not very active. However, there are many mentions of the company by various websites and surely we are not the only ones nominating My Ninja Movers as one of the top moving companies. So considering the range of services, customer satisfaction rate and professionalism My Ninja Movers undoubtedly deserved its palace in our top 5 players in the Toronto moving industry.
What's next?
We presented you the results of our extensive research to locate the top 5 local moving companies in Toronto, but we assume you are eventually looking for only one :) The next step is to receive and compare quotes for your upcoming move. Even though these companies typically offer competitive rates and moving services, the moving quotes always vary depending on the time of year, source and destination addresses, etc. For example, moving companies that are less loaded with work for your specific dates will go an extra mile to offer you special rates and services.
So, you may ask "what's the best way to receive multiple quotes from movers near me?"
Glad you asked, enter Gvota!
Gvota is an online platform that allows people to request fast-moving quotes from local moving companies. It is absolutely free service for Canadians, with no hidden costs or any obligations whatsoever. You simply request moving quotes on Gvota, by specifying the details of your move, and local moving companies start sending you detailed quotes so you can compare and choose your mover. A nice bonus, Gvota only works with verified movers, and with each quote you get to see all the past feedback they received from previous projects, so to help you make an informed choice. On average you are expected to receive 12-13 quotes in 3 hours for Toronto moving.
Whichever direction and mover you choose, we wish you a stress free moving!